Hello Friends,
We want to thank all of you for your prayers and support on our last mission trip to Singapore and Sri Lanka. We saw God's mighty hand at work. In Singapore God healed many hearts through the preaching and teaching of the Word. Many came forward to testify about their healings. Many cried as they received the Father's love through salvation and renewed commitments to Christ. We saw paralyzed legs begin to move again and we saw a deaf woman completely healed as she threw out her hearing aid.
In Sri Lanka God touched many. In our crusade, over four churches were united and eight pastors were together ministering with us. As Neil preached many were set free and saved. A gentleman who was mute came forward for prayer and God used our hands to heal him. As he began to speak all who witnessed were amazed at the power of God. Over all, hundreds were saved and healed! Praise the Lord!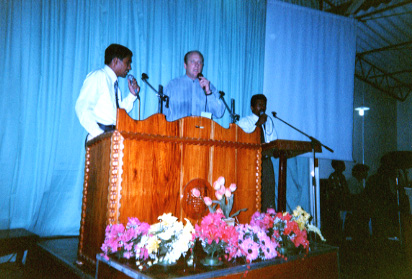 Neil Preaching at a Crusade in Sri Lanka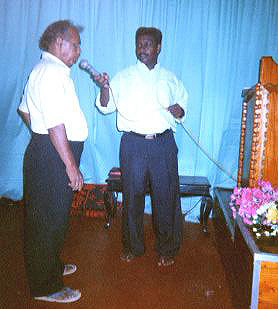 Testifying of his Healing
---
Go Forth ministries is a full gospel ministry
proclaiming Jesus Christ around the world.