This is a 501(c)(3) organization. Your gifts are tax deductible.
REACHING THE NATIVE AMERICAN TRIBES IN COVELO, CALIFORNIA
Thank you so much for your prayers and support on our last mission trip to the Native American Reservation in Covelo, California the last two weekends of June 2003. We speak for the whole team when we say it was a BLAST"even better than last year! Elbow grease love during the day and preaching and teaching of the Word at night made for a well-rounded mission trip. The hard working team installed 2 beautiful brass ceiling fans at the church, painted, added trim and base boards, fixed the bathroom, set a toilet, put on a door, and then continued the work of painting picnic tables, installing a hot water tank, and assisted in building the snack bar at the camp site where the annual tent revival is held.
What a blessing to see the unity and love in our team- even among our pets! The Lentz family brought their 2 dogs and we brought our parrot! The days consisted of waking up early, working in the hot sun all day, getting to the hotel at the end of the day just on time to shower and eat, and finally ministering at Pentecostal Lighthouse Church in the evenings! Gods love and power was evident as Neil preached- prophetic words encouraged the body and healings were present in eyes, necks, and wrists as words of knowledge came forth.
The following weekend in Covelo, at the 76th annual tent revival, God generously poured out his Spirit and even as Neil preached Jesus was busy moving about the tent touching bodies and healing broken hearts. A woman came forward to share with everyone how she could see clearly for the first time! God miraculously healed her eyes! Another woman was walking around with much emotional pain and barely able to function because of the death of a loved one she shared with everyone how God removed this pain from her heart!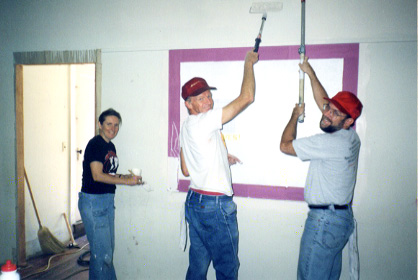 Painting the Pentecostal Light House Church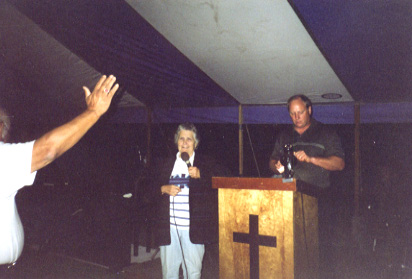 A Woman Testifying about her eyes being healed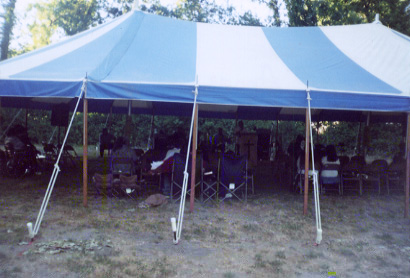 The Tent We Used
---
Go Forth ministries is a full gospel ministry
proclaiming Jesus Christ around the world.