Dear Friends,

We just arrived home ( Feb. 4, 2003) from a 6 week mission trip to New Zealand and Australia . We saw healing, salvation, renewal, and much outpouring of the Holy Spirit for this end time harvest! God has already spoken to us about Sweden and we've just purchased the plane tickets for April/May 2003. It appears as if our baby will see 3 continents and 4 countries before being born this August!

We would like to tell you a few stories that really touched our heart while in Australia and New Zealand. After preaching, Neil had a word of knowledge about ears that needed healing. A woman came forward who had been deaf in her left ear since childhood. After receiving prayer, she quietly went back to her seat. The same woman came up again to tell that God had healed her ear and that she wanted to know how to give her life to Christ! What a beautiful demonstration of the power of God to heal and save! Neil likes to say that healing is a dinner bell to salvation. Praise the Lord.

After preaching at a wonderful Tongon church in New Zealand, God told Neil to dance with an elderly woman who could barely use her legs. As Neil took her hand and began to dance she received full use of her legs and went dancing and laughing all around the church like a little girl! What a beautiful manifestation of the power of our God to heal and bring joy to all who are hungry for it.

Finally, we saw unity amongst believers and denominations in Australia as 10 churches united for a tent revival that was advertised in the local paper. Over 700 showed up to receive a touch from God. As Neil preached, the power of God fell and many were delivered, healed and saved! Thank you Lord!

Overall, we preached in 25 churches while in Australia/ New Zealand. Praying for People at a Tent Revival Over 700 attended Neil at a Tongan Church in New Zealand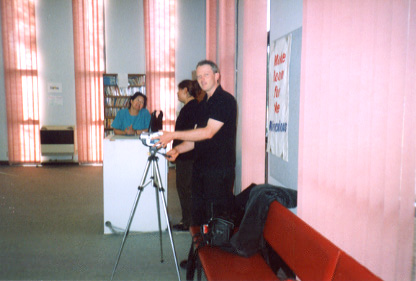 John Edwards (Missionary We Support) on the Video
---
Go Forth ministries is a full gospel ministry
proclaiming Jesus Christ around the world.